Motivational Monday #2 First things first: Believe
August 31, 2015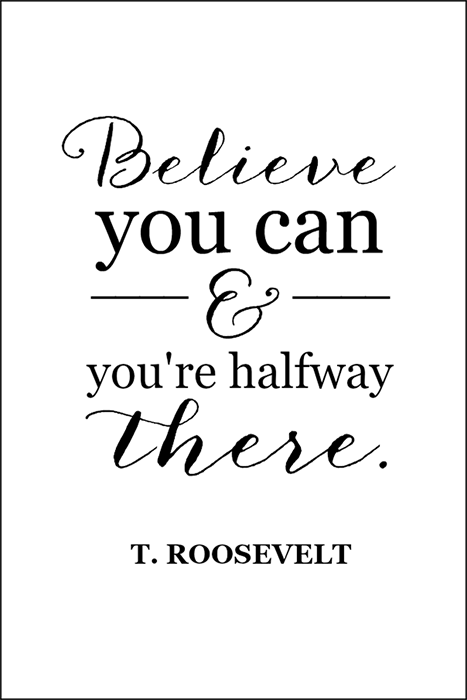 What are you wanting to chase but your scared of the obstacles that might be in the way? It may be situations or people that may be your obstacles, heck it may even be yourself and your silly mind that takes over and tries to tell you that you could never ever do something like that. Well I'm here to tell you that you can! You can pursue that dream, that job, that relationship, that life goal. Seriously, what is the worst thing that can happen?? You don't attain it or get it?
You really didn't lose much then did you?
The greatest thing you have to overcome is yourself. The thoughts that tell you that you can't. The constant negative feelings that overtake you and try to sway you away from it. It's about power of the mind people! Take control of your thoughts. BELIEVE that you can do it.
A negative mindset or attitude that has you believing that something is impossible will only work against you in the long run. It's like an anchor tied around your ankle. It's just holding you back. Release it and run far away from it.
If you don't believe in yourself, how do you expect others to believe in you? It's about what's on the inside, that shapes you on the outside and your circumstances. It's shown in the way you carry yourself and how you portray yourself.
Have you ever noticed, when you are meeting someone for the first time you either are a) super nervous and scared of how it'll go, which causes you to fumble on your words when you begin to talk to them, or b) you think positive thoughts and think of the best possible outcome, trusting, that you you've got this , and then when you talk to them everything just flows and comes together.
Which option would you choose? Personally, I'd go for the positive route
Believing is half the battle. If you can conquer that, you can break down walls that are in front of you. If you believe that you can do it you will be willing to try and try again until you accomplish it.
Believe and you'll have the mindset to accomplish it!!
You got this!
kate ❤︎
© Copyright 2015, Kate Tandy Photography